Making Workflows More Intelligent:
A Patient-Centric Approach
By: Kevin Narine and Christopher Sanfilippo, Forum Systems
Patients today want care delivered in a manner and in a place that is convenient for them rather than for the provider. With new technologies emerging each day, healthcare providers now have an opportunity to digitize, streamline, and optimize their workflows, as well as extend their workflows to deliver care to patients in new and innovative ways which enhance the patient experience and improve health outcomes.
Patients benefit when practices modernize operations. For example, by leveraging real-time health data aggregated from multiple sources (such as Healthcare Information Exchanges), providers today have an unprecedented opportunity to reimagine how care can be targeted to the unique needs of each patient. Whether it is urgent care at home for the elderly or chronic care management for diabetes, providers can now design new innovative workflows that are more intelligent as well as patient-centric.
While the ultimate beneficiary is the patient, health plans also benefit immensely from such new patient-centric workflows. New technologies enhance preventative care which, in turn, reduces unnecessary visits to the clinic.  Fewer preventable health events means a better patient experience. In addition, adopting easy-to-use mobile apps, wearables, and video conferencing improves outcomes and lowers costs. New patient-centric workflows will require a flexibility and malleability that legacy EMRs and practice management systems, designed for the traditional office visit, simply cannot support.
Below, we share some examples of how technology can be leveraged to build intelligent, patient-centric workflows and present strategies for doing so. By building solutions on technology that is interoperable, flexible, and scalable by design, organizations can increase their pace of optimization. Preparing your practice for the future requires a partner that works closely with your business and rapidly delivers purpose-built capabilities and price transparency and predictability.
Delivering Patient-Centric Care with Technology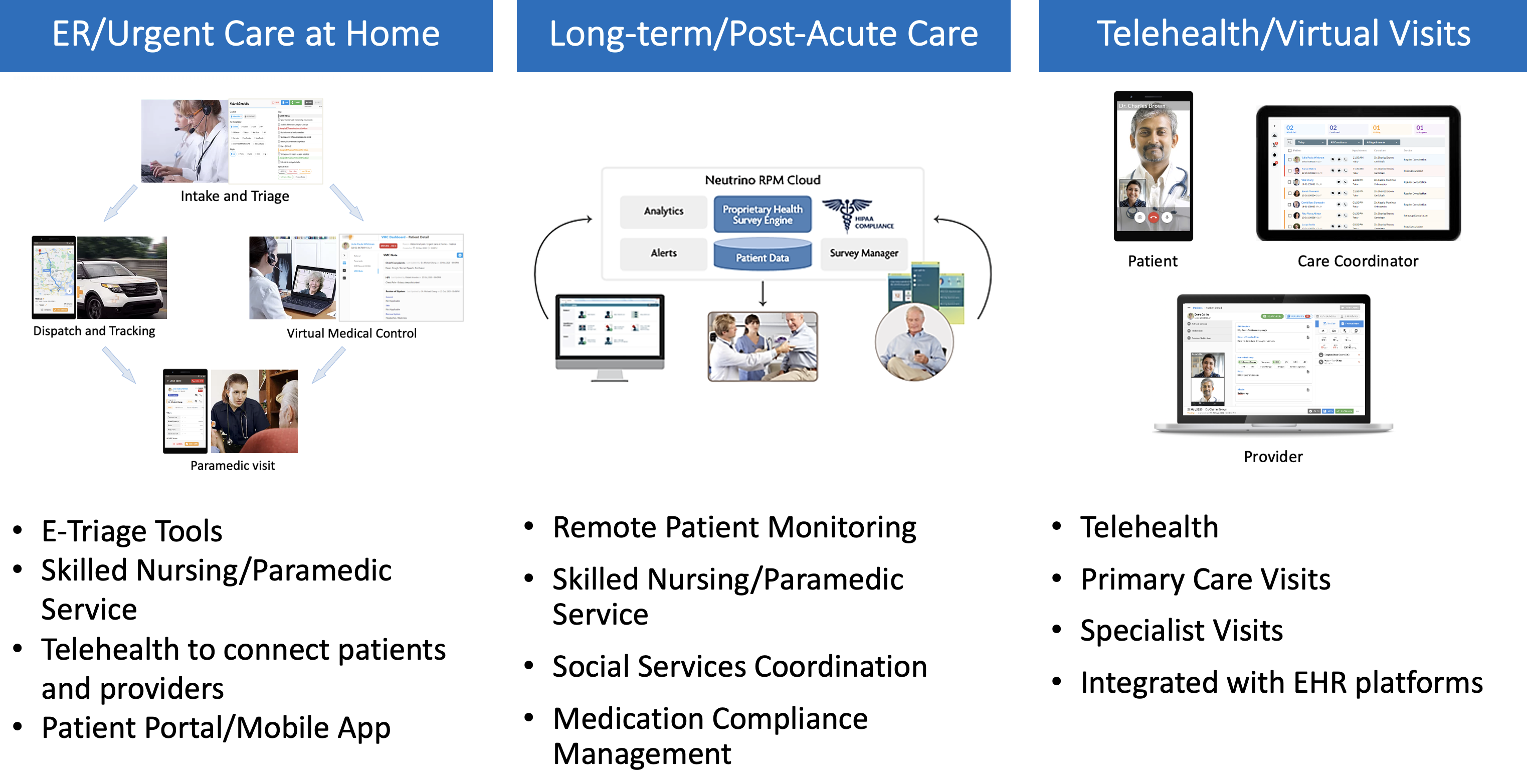 ER/Urgent Care at Home
Many traditional workflows have begun to improve with the addition of emerging technologies in the industry, often led by Homecare service providers. With emergency floors overflowing in recent years, and the rising adoption of telehealth services, Emergency and Urgent Care services have started being handled by Homecare agencies. Rather than rushing to the ER just to wait for triage and potentially waiting even longer, patients now have access to very similar if not the same quality of care right from home. Especially for patients with severe illnesses, chronic conditions, and disabilities, these new services are greatly improving quality of care.
New technology services like E-Triage are optimizing the workflow even more: by expediting and simplifying the triage process, patient wait times are reduced and some even avoid the ER altogether. E-Triage supports coordination between all parties to ensure the patient is connected to nurses, paramedics, and physicians as needed.
Long Term/Post-Acute Care
Patients who have been admitted to a hospital for procedures related to or treatment of acute conditions are prescribed care plans that typically include nursing needs like wound care and rehabilitative therapy in addition to medications. These care plans apply to long-term care patients as well, who need more intense care. Intelligent workflows for post acute/long term care can help patients receive coordinated care at home that not only offers convenience to the patient but improves compliance and reduces potential readmissions.
Telehealth offerings combined with Remote Patient Monitoring have had a large impact on improving care outcomes. Digital technologies such as mobile apps and connected devices allow for health data to be monitored and transmitted electronically between providers as needed, allowing them easier access to patients and their data. Medication compliance management is another key service within these workflows that has been augmented with technology—many patients are provided an easy-to-use mobile app customized for them to manage their medications.
Telehealth/Virtual Visits
With the ongoing COVID-19 crisis, Virtual Care or telehealth has become commonplace. While some providers have been using generic technologies like Zoom, others have deployed specialized telehealth apps for primary care visits as well as specialist consults. With the increased adoption, we are now seeing this technology integrated within many EMR platforms.
Continued adoption of telehealth services greatly increases access to care for many patients. This technology enables long-distance patient and provider contact, care, education, and monitoring. Patients are now able to set up appointments, see their providers, and even get prescriptions—all from the comfort of their own home.
Recommendations
Proper analysis of your practice workflows will be critical to understanding how they can become more intelligent. Some key steps to for guiding your analysis are:
Identify high-impact workflows

Engage healthcare industry workflow experts to illustrate the patient/provider journeys

Evaluate disruptive technologies that streamline workflows and provide opportunities for improving patient outcomes

Define new workflows that leverage such technologies and engage qualified companies with exceptional healthcare technology expertise—such as Forum Systems—to accelerate the effort

Build minimum viable workflows with rapid deployment and iterative improvements
With a well-organized implementation strategy, new and improved workflows can provide tremendous value for a health practice and its patients. Planning, utilization, and execution of these new intelligent workflows, with a focus on interoperability, lead to improved patient outcomes and lower costs.
About Forum Systems
Forum Systems is a leader in intelligent API gateway technology, deep data analytics and cloud technologies. Forum technology, used by some of the largest global companies for building intelligent business workflows, is certified and secure. Along with industry-leading performance, interoperability, and security, Forum Systems takes pride in their customer-driven innovation and simplified user experience.