How to Modernize your Healthcare Practice
with a Management Services Organization
By: Kevin Narine and Christopher Sanfilippo, Forum Systems
A Management Services Organization (MSO) provides healthcare-specific administrative and management solutions to practices and providers. MSOs typically manage non-clinical work, such as financial management, human resources, training, claims/billing, and regulatory compliance. Certain MSOs help healthcare groups modernize practices through their technological expertise.
Healthcare practices benefit from partnership with an MSO by outsourcing business functions which, though essential, are secondary to clinical work. MSOs provide specialized tools for the specific challenges of healthcare business administration. They address each aspect of the Triple Aim: cost is lowered through greater efficiency; care is improved by interoperable workflows and data-driven decision-making; and patients have a smoother experience overall. 
Industry Trends
Healthcare has always been a constantly evolving environment, and recently the pace of change has only quickened. Practices are now moving away from traditional managed care (or fee-for-service) arrangements and taking on more of the associated risk, and thus cost, themselves. This trend benefits patients—Risk Bearing Organizations (RBOs) provide better care. 
Traditional health practices must evolve as new challenges emerge: complex reimbursement structures, patient demand for convenience, government-mandated interoperability requirements, to name only a few. Such challenges financially burden providers. In addition to these external pressures, providers themselves want to take advantage of new capabilities enabled by technology, such as population-level health data analysis. 
Enabling Technologies
Now the question emerges: How can healthcare practices leverage emerging technology for greater operational efficiency? What is more, how can already overburdened providers even identify which technologies could add real value? Precisely here the right MSO can help. Just as other industries have been transforming their processes with technology, so too has healthcare. However, the industry resists change. Regulatory burdens and the complexity of healthcare itself make integration of innovative technology difficult. Today's MSOs assist both with non-clinical work—and some are beginning to disrupt conventional clinical practices with cutting-edge technology. 
MSOs equip providers with the operational infrastructure to enable technologies such as: Telemedicine services including at-home Urgent Care, EMR integration, and Remote Patient Monitoring. Providers can use these and others to assist with patient administration, appointment scheduling, and visit workflow management. Not only do providers in these practices benefit, patients also get access to fully integrated mobile apps where they can, say, look up their next visit or even check on prescriptions through a seamless user interface. The efficiency effected by MSOs enables a practice to focus on what matters.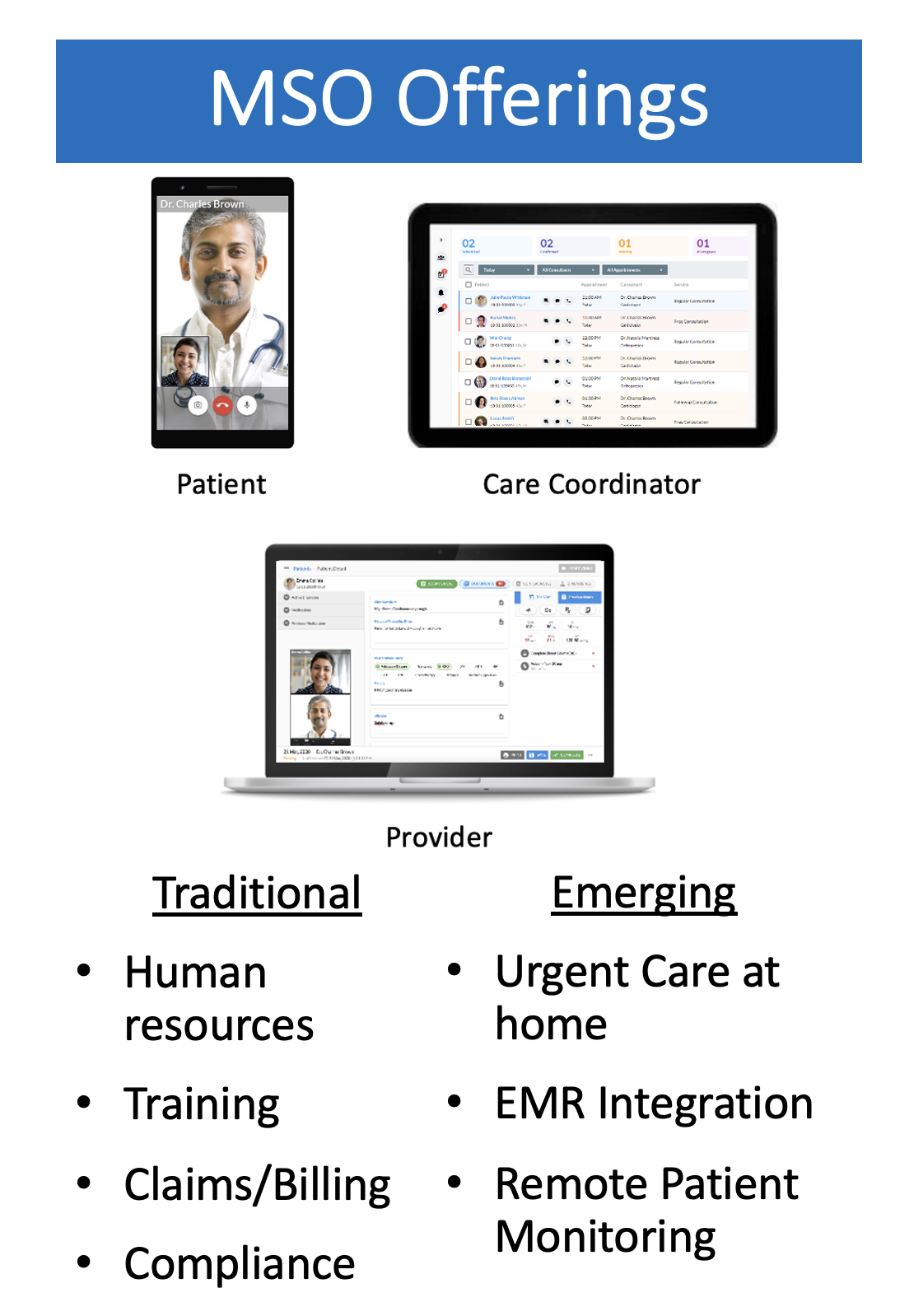 Companies to Watch
In our research, certain MSOs stand out by combining high-quality traditional MSO services with technological innovation. The truly visionary companies see that future value for healthcare lies with modernization and so are early adopters of disruptive tools like machine learning and deep API integration used for iterative improvement of their interoperability. Some technology-led innovators to watch are:
Athenahealth

is an organization that provides an integrated suite of products to help physicians and patients alike. It offers an EMR product, revenue cycle management, patient engagement, and care coordination services.

TRIARQ Health

is an award-winning healthcare MSO focused on providing purpose-built tools and services to help providers modernize their practice. It offers many technology-focused solutions to help optimize your workflows and maximize growth, all while providing better quality care and improving patient relationships. Its offerings stay up-to-date with current industry trends and are interoperable by design. It boasts a robust EMR/PM system, along with Care Management and billing solutions to help power the future of healthcare.

TriZetto

(a Cognizant company) is an MSO aimed at simplifying the business of healthcare. It offers revenue cycle management services backed by its intuitive products and customer-focused delivery.
Recommendations
As with any strategic endeavor, health providers must identify their current pain points to see how an MSO can help. Key steps include:
Identify and categorize clinical and non-clinical processes and workflows

Engage healthcare technology experts—such as Forum Systems—to guide your adoption of disruptive technologies tailored to your business needs

Implement new technologies into existing processes and focus on iterative improvements and interoperability
The future of healthcare is doubtless very bright, especially if more healthcare providers and practices begin to take full advantage of new capabilities offered by Management Services Organizations. Choosing the correct MSO is crucial because it will be your guide in navigating the digitized, interoperable healthcare ecosystem. Partnering with a technology-focused MSO is the best way, in our opinion, to future-proof your practice as it allows you to provide better care, lower costs, and a seamless patient experience.
About Forum Systems
Forum Systems is a leader in intelligent API gateway technology, deep data analytics and cloud technologies. Forum technology, used by some of the largest global companies for building intelligent business workflows, is certified and secure. Along with industry-leading performance, interoperability, and security, Forum Systems takes pride in their customer-driven innovation and simplified user experience.