Health Information Exchange:
A Modern Approach to Digital Connection
By: Kevin Narine and Christopher Sanfilippo, Forum Systems
We are experiencing the most digitized age in the history of the healthcare industry. Data is being generated at a rate once unimaginable—but the rapid influx of data has mixed effects. On one hand, there is a wealth of patient data being gathered that can be used for analytics, predictive modeling, and improving overall patient outcomes. But to store, access, and share this data securely and efficiently is a challenge. Health systems traditionally exchange "data" with actual paper, filed away in physical filing cabinets which house sensitive patient PHI. Some providers still primarily rely on mail and even faxes to transport this information to the relevant stakeholders like pharmacies and specialists. Technology exists that allows data consumers to access and manipulate data in real-time, but the healthcare industry has had trouble integrating such technologies. Future-oriented organizations within the healthcare ecosystem are beginning to realize that partnering with a Health Information Exchange (HIE) can be an innovative solution to this data problem. HIEs can modernize and digitize the way valuable patient data securely and effectively changes hands. Improved provider collaboration gives doctors access to the data they need, when they need it, greatly reducing the time it takes to treat each patient. Patients benefit from better care coordination, improved transitions of care, and the reduction or elimination of duplicate procedures. These benefits lead to improved patient safety, quality of care, and overall satisfaction.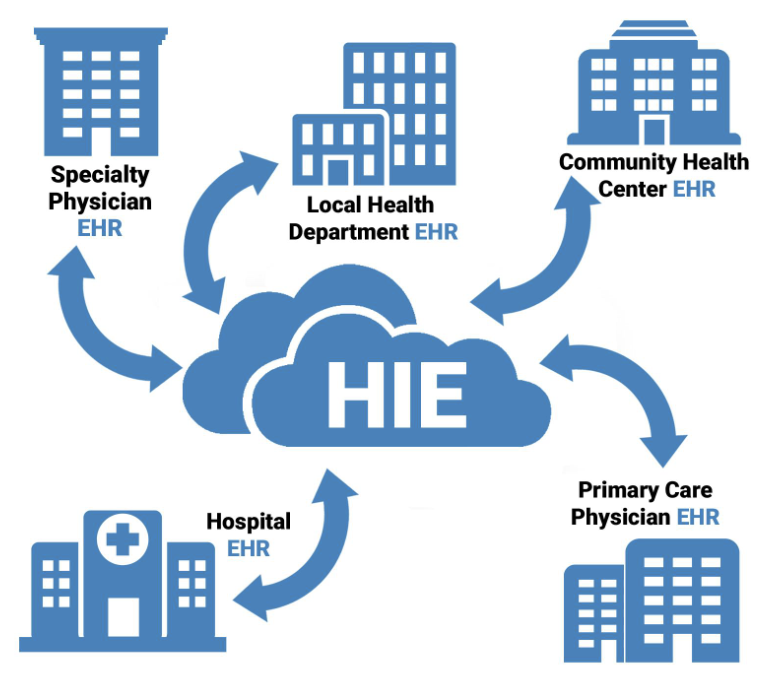 Adding Value for All Stakeholders
HIE can be used as both a noun and a verb: it signifies both organizations that provide the technology and services required to securely exchange health data as well as the transfer of data in the exchange. As a verb, Health Information Exchange (HIE) is the secure, electronic transmission of patient data between two or more authorized entities, such as healthcare providers and medical facilities. HIEs have been present in the healthcare ecosystem for some time now but their benefits have been highlighted by new reforms and mandates such as the CMS Interoperability Rule and Affordable Care Act. More insured patients and more data being collected from each patient means much more data in the health ecosystem that has to be exchanged and managed.  
There are three primary forms of Health Information Exchange: directed exchange, query-based exchange, and consumer-mediated exchange. Directed exchange is the most basic and describes the secure interchange of data electronically between health providers. Query-based exchange occurs when a provider needs to request or find data from another provider, often seen in urgent and emergency care. Finally, consumer-mediated exchange gives patients the ability to handle and manage their own data, often sending data to providers, such as specialists, as needed. Each of the primary HIE forms plays a unique role in facilitating interoperability.
The real value of a Health Information Exchange is best seen when health data needs to be exchanged throughout the entire country. It's much easier to exchange data within a state given state-specific data regulations. Navigating these requirements across state lines where regulations can differ is more difficult. HIEs give both providers and patients the ability to be more agile with their data; this becomes especially helpful when treatments are done throughout the country, such as for high-risk and elderly patients. Because HIEs can facilitate efficient movement through differing regulatory environments, they can serve as a centralized and standardized national repository which connects large hospitals to small clinics.
The Future of HIEs
Given the surge in data now being generated by patients and providers, there needs to be some set of standards to streamline the data exchange process. HL7 FHIR (pronounced as "fire"), or Health Level 7 Fast Healthcare Interoperability Resources, is an interoperability standard that many believe is the next-generation of electronic health data exchange. FHIR is an efficient and standardized way for providers to exchange healthcare information in a variety of contexts such as acute, ambulatory, and even virtually via telehealth. Because it uses already existing standards and technologies—like API resources and HTTP—FHIR can be quickly understood and implemented by developers and other health IT professionals who are working to digitize their workflows. It is also more agile and adaptable than its rival, EDI X12. HL7 FHIR aims to simplify the highly complex requirements of healthcare data exchange so that payers, providers, and patients have easier access to relevant data. 
The future of Health Information Exchanges is much closer than one may think. In the coming decade as HIE adoption rapidly increases, there will undoubtedly be process efficiencies gained for everyone involved in the healthcare ecosystem. With interoperability as the focus, Health Information Exchanges are bridging the gap between patients and providers everywhere. A fully-integrated health ecosystem with rapidly exchanged data is the finish line, and more healthcare stakeholders are starting to enter the race. Real-time, seamless, and secure data interchange is the future of the modern health system. As the industry moves towards value-based care, integrating an HIE into healthcare workflows will allow providers to collaborate much more effectively and enable patients to reap the benefits: lower costs, expedited care, and the freedom to take their "health journey" into their own hands.
Recommendations
How can Forum Systems help with your HIE adoption?
Utilize our prowess to help you build seamless FHIR APIs that can accelerate business impact.

Take advantage of our experience and let us help you get directly and rapidly connected to HIEs available to your business.

Leverage our in-depth domain expertise to assist with business intelligence, workflow, and technology integration.
About Forum Systems
Forum Systems is a leader in intelligent API gateway technology, deep data analytics, and cloud technologies. Forum technology, used by some of the largest global companies for building intelligent business workflows, is certified and secure. Along with industry-leading performance, interoperability, and security, Forum Systems takes pride in their customer-driven innovation and simplified user experience.